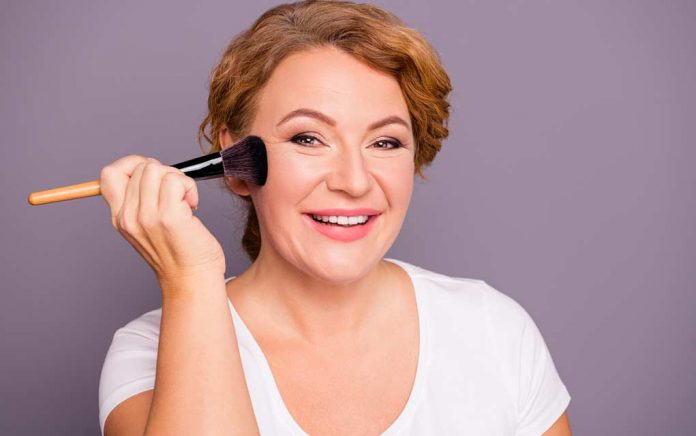 Makeup Tips That Help You Look Younger
(WellnessPursuits.com) – "Have a nice day, ma'am."
Even when spoken with good intentions, this statement often reminds women of their progression from "miss" to "ma'am." If you can relate, or if you panic at the thought of losing your youthful complexion, you're in luck. We have some easy tips to help conceal the signs of aging.
Reduce the Appearance of Wrinkles
Drinking the recommended 11.5 cups of water a day helps keep your inner body hydrated, but what about your complexion? Well, drinking water can also improve your outer appearance, but sometimes it's difficult to consume enough of it.
When you're dehydrated, you may notice rough patches or flakes, and foundation, eye shadow and blush may get stuck in facial creases. This creates a caked-on makeup mess, but it also draws attention to your aging skin.
The solution? Keep tackling your daily water goals, and in the meantime, also try using a creamy moisturizer. Look for one with alpha hydroxy acid, a chemical compound known for its wrinkle-reducing powers. Alpha hydroxy acid also helps with dryness and firms the skin, making it look plumper and more youthful.
Although staying hydrated and using a good moisturizer can help reduce wrinkles, this won't hide them completely. This is why it's important to use a primer to fill in your creases before applying your foundation.
A makeup primer is a cream, gel or liquid designed to create a smooth base for your makeup. Primers that minimize the appearance of pores tend to work best for concealing wrinkles and other imperfections.
Remember Foundation Fundamentals
Think of foundation as an appetizer in your skin's dinner plan: It's not the main attraction. It's the base that lets you showcase your blush, bronzer and contour skills. When applied correctly, foundation conceals red patches and creates a youthful glow. If you use too much, it accents wrinkles and makes you look older – even if you're in your teens or twenties!
Also, make sure you choose the right foundation for your mature skin. If you want to erase years from your complexion, opt for a creamy, light-reflecting liquid foundation, rather than a heavy matte formula. Look for something sheer but buildable, preferably with SPF protection and skin-nourishing antioxidants.
Lighten, Brighten and Plump Up
A sultry red pout shows that you're confident, flirty and… old? Unfortunately, bold lip colors draw attention to thinning lips and wrinkles between your nose and mouth. Colors like red also draw major attention to marionette lines, those deep creases that extend from your lips to your chin.
As we age, our lips tend to thin out. This happens due to a natural decline in collagen. To keep your pout looking youthful, try using a lip plumper. These add volume. If you opt for a lip gloss or lipstick with a built-in lip plumper, you'll be able to add both a pop of color and volume to your lips.
Fake a plump pout with a dab of clear or shimmery gloss in the center of nude-hued lips. If you need more color, try a light pink, mauve or rose-toned lipstick. For maximum staying power, line your lips before applying color and make sure you apply lipstick over regularly exfoliated, moisturized lips.
Get Brows That Wow
As estrogen decreases, you may notice a lack of libido – and a lack of brows. Estrogen loss can thin out even the thickest brows, resulting in sparse hairs that disappear under a swipe of powder or foundation. You may also notice some silvery strands in your eyebrows as you age.
Luckily, there are several simple fixes for greying or barely noticeable brows: Eyebrow pencil, powder, mascara or wax. If you're a brunette, you should typically choose a hue one shade lighter than your natural hair color. Look for an ashy hue similar to your natural hair color if you're a redhead. Blondes should go one shade darker to avoid looking washed-out, as light pencil colors don't offer much definition. Use stencils if you've never done your brows before; this helps you get a natural, even shape.
Aging is inevitable, so you need a makeup routine that safeguards your confidence and self-esteem as your skin begins to droop and crease. You can't preserve all of your youthful complexion, but you can recreate it with our easy-to-follow makeup advice.
~ Here's to Your Healthy Pursuits!
Copyright 2023, WellnessPursuits.com