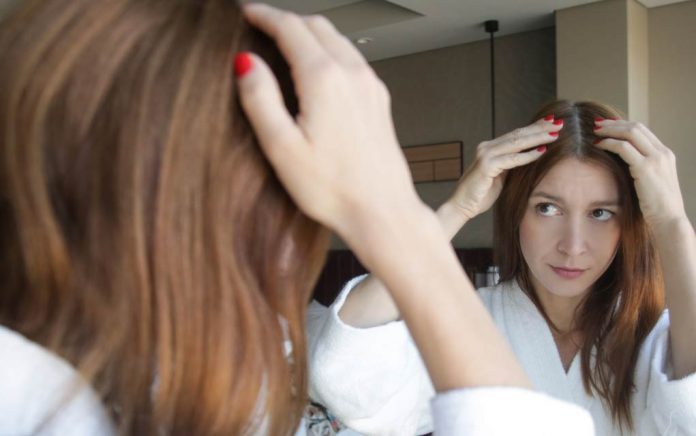 (WellnessPursuits.com) – Does it seem like your roots start showing a week after your hair appointment? You're not imagining things! Hair grows about half-an-inch per month, which comes down to 1/8 inch every week. If your roots are mostly gray, it doesn't take much growth for them to start showing. A week is plenty of time for them to start peeking through. Fortunately, there are several things you can do to hide your roots until your next hair appointment.
Change Your Part. Sleek, straight parts really make gray hair shine — but not in a good way. Avoid creating stark parts two to three weeks after a touch-up. Opt instead for creative parts that lift your hair from the roots and get it moving in different directions. Some of the best parts for this are the zig-zag part, deep side part, diagonal part and soft side part.
Pump up the Volume. The simple feat of getting more volume into your hair can give you an extra two weeks between touchups (or more, if you're really dedicated). The key is to lift your hair at the root. You can do this by using root-boosting products directly at the root and blow-drying your hair straight out from the scalp. A little curl and tease also go a long way in creating the volume you want.
Change Your Style. Those last few days before you see your colorist can be excruciating, but you can get through them by changing up your style a bit. Put your hair in a headband, bun or braid to cover your roots or distract attention away from them. If you need a little extra help, consider wearing a hat or scarf.
Use Root Cover-Up. Root cover-up products are all the rage. And the best part? They really work! Sprays, powders, concealer sticks and colored shampoo can all cover your roots in a pinch. They cover up to 1 inch of regrowth effectively, which means you can get about two months out of your retouch if you use them. Once you get past 1 inch of regrowth, however, it gets harder to conceal those roots.
Use cosmetics. If you don't have a root cover-up product, you can cover gray hair with just about any cosmetics used for accentuating/coloring lashes and brows, including pencils, powders and creams. Mascara even works!
Use Semi-Permanent Color. If you really need to get a few more weeks out of your color, you can blend away grays with semi-permanent hair color. While semi-permanent color won't cover 100% of your grays, it will stain them and make them darker for a few weeks. And it will all be gone by the time you actually go see your colorist. To blend away your roots, choose a color that's closest to your colored hair and apply it to the roots only.
Get Some Highlights. Gray hair shows the most when there is a dramatic line of demarcation at the regrowth line. You have two options to reduce the appearance of this line: go lighter or get some highlights. With highlights, you can go up to eight weeks or longer without a touch-up.
Remember, if you're all gray or mostly gray, you should be getting touch-ups every four to six weeks. That's not much time between appointments! If you want to go less often, it's a good idea to lessen the contrast between your regrowth and hair color. This is often done by keeping your hair a bit lighter. Use these tips will get you through to your next appointment!
~Here's to Your Healthy Pursuits!
Copyright 2023, WellnessPursuits.com