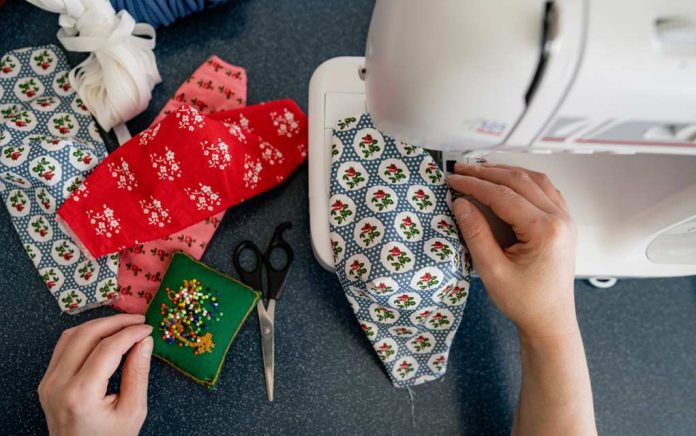 (WellnessPursuits.com) – We've all been asked to cover our faces in public to help prevent the spread of COVID-19. Hospitals still desperately need all the surgical face masks they have and can obtain, so making your own frees up their supply. With just a little bit of creativity and some materials you might even have at home, you can make your own face masks!
The Importance of Face Masks
On April 3, the Centers for Disease Control and Prevention (CDC) asked everyone to begin wearing face coverings in public places, like grocery stores or pharmacies, to help stem the spread of COVID-19. They found that many people who were actually infected with COVID-19 were asymptomatic or presymptomatic, so they didn't even realize they had the virus and were potentially making others ill. Coughing, sneezing, talking, laughing and even just breathing can shed microscopic virus particles. Wearing face masks that cover our noses and mouths will help contain those tiny particles if we are infected and don't know it.
Here are some DIY face mask ideas that you can make at home!
DIY No-Sew Bandana Mask
The first face mask we want to show you is an easy, no-sew mask made from a bandana (or any piece of cotton material which is roughly 20 inches x 20 inches in size). You'll also need two large rubber bands or elastic hair ties.
It's simple but effective! Because it's cotton, you can disassemble this mask easily and wash it after each use. And if you have several bandanas, then you have several potential masks!
Easy No-Sew T-Shirt Mask
The next face mask is based on using a t-shirt! It's also a no-sew mask and features tie-backs made from the t-shirt to save your ears from elastics. This video shows two ways you can use a long-sleeved t-shirt to make your own masks (up to four from a single shirt)!
Hand and Machine-Sewn Masks
Want to sew a mask, even though you're not an expert sewer? Check out this easy-sewn mask for personal use. You don't need a sewing machine, just a pair of scissors, thread and needle. In fact, you could use safety pins!
If you want to make masks for yourself and to donate to others, this might be the DIY mask pattern for you! If you're good with a sewing machine or you don't mind sewing by hand, there are several patterns out there you can follow, such as this sewn t-shirt mask.
Keep in mind that these masks are not surgical masks or N-95 respirators. There is currently a shortage of N-95 masks, and the CDC advises reserving them for healthcare workers and other medical first responders. Your masks won't have the same filtration capability, but they are still important for reducing viral particles.
As a safety reminder, cloth face covers shouldn't be used on children under the age of 2 or anyone who has difficulties breathing. They should also not be used by anyone incapacitated, unconscious or unable to remove the mask without assistance.
Homemade masks not only help prevent the spread of the virus. It's also a fun craft idea. You can make something bright and fun, as well as useful!
~Here's to Your Healthy Pursuits!
Copyright 2020, WellnessPursuits.com