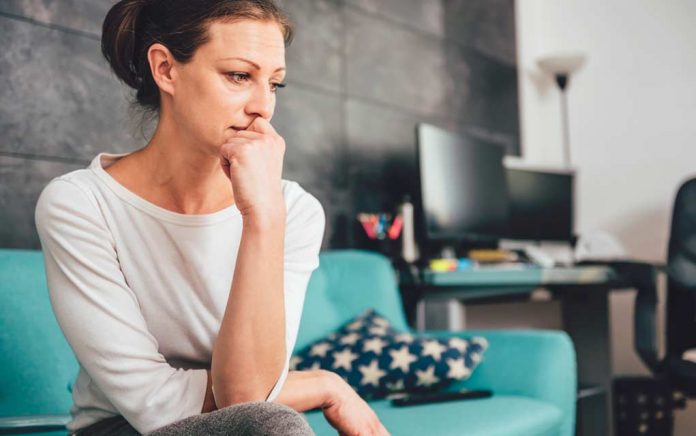 (WellnessPursuits.com) – In just a few months' time, COVID-19 has gone from a new illness to a pandemic that has significantly changed millions of lives and routines. Social distancing to slow the rate of infection has impacted schedules and jobs across the globe. Major changes, by themselves, often cause anxiety — and that's before you add the stress of isolation, quarantine, health and financial security. We have ideas to help tackle anxiety during this tough time.
Stay Informed, But Don't Obsess
Information is changing rapidly, and staying informed is smart and necessary. For some people, though, feeding on information can become an obsession that cranks anxiety up. When you seek out information, look for trustworthy sources like the Centers for Disease Control and Prevention (CDC), the World Health Organization (WHO) or your local health department.
You might find yourself constantly refreshing to get the latest updates or find out how many coronavirus cases are being recorded in your area, which can lead to further worry. Try to limit how often you check for updates, and if you start to feel overwhelmed, consider stepping away for a while. Some people need to avoid media entirely to keep their anxiety under control. To stay informed about important issues, they ask a trusted friend or family member to pass along important updates. Before taking action on or sharing new information, consider verifying it to the best of your abilities through multiple reliable sources to avoid creating panic or taking an action you might regret.
Control What You Can
One way of dealing with anxiety is by planning and focusing on responses to your concerns. Reduce your risks by isolating yourself (staying home), social distancing (staying at least 6 feet away from others) and avoiding non-essential trips and shopping. You can further minimize your risk by practicing good hand hygiene by using soap and water or sanitizers with at least 60% alcohol, wiping down communal surfaces with cleaners that can kill the coronavirus and following recommendations from health authorities.
After containing your risks, identify your concerns. Categorize between issues you can do something about and issues beyond your control, and plan what you can. Focus your energy on concrete situations that have solutions. If the process begins to feel overwhelming, take a break. Also, because so many people are in the same situation, brainstorming with a trusted friend about your concerns and plans might give you both new insights.
To find some level of peace, it might be necessary to accept that there are aspects and issues you can't control. Sometimes, though, feeling a loss of control can exacerbate anxiety.
Practice Meditation and Mindfulness
If you feel like your anxiety is out of control, an exercise that might help is grounding. Start by focussing all your attention on breathing and your body. Breathe in deeply for 4 counts, holding your breath for 7 counts, then breathe out over 8 counts — and repeat. Notice the sights, sounds, and smells around you and how your body feels. Continue breathing and counting, bringing your mind back if it strays to your breathing, counting and the things around you until you begin to feel calmer. Be kind to yourself. Other mindfulness techniques and meditation might also help you control anxiety,
Take Care of Yourself
During something as stressful as a pandemic, it can be easy to neglect taking care of yourself. Try to maintain a normal routine, and make sure you're getting a good night's sleep. Following a well-balanced diet with plenty of fruits, vegetables and fatty fish can help with managing your anxiety levels.
Try to spend some time outside if you can, while still obeying local restrictions. Not only will it help you get in touch with nature, but it has other health benefits. Sunshine can provide natural vitamin D and you can walk, run or bike around your neighborhood for exercise or to brighten your daily routine.
Stay Social While Social Distancing
Social distancing can result in emotional isolation, loneliness, depression and anxiety. It can even affect physical health. Maintaining connections with others can help provide emotional support and reduce the feelings of isolation. Scheduling regular phone calls or video chats can reduce the risk of depression and may ease the anxiety of isolation.
While social media can be a great tool for connecting with some friends, be aware of how it makes you feel and whether it might be raising your anxiety levels. There may be healthier places to meet up with friends electronically.
Check on Friends and Family
Consider helping others if you are able. Helping others can change your focus and help you alleviate anxiety. Checking on family and friends on a regular basis might also make you feel more helpful, proactive and in control. Suggestions for ways to help others while maintaining social distance include:
Delivering groceries, prescriptions or food to those who are at higher risk. You can leave packages on doorsteps to avoid direct contact.
Calling or texting older neighbors or vulnerable friends without family close by. A friendly voice on a regular basis can make a world of difference to someone who is isolated.
Donate surplus to food banks. The panic buying and hoarding have left many vulnerable people in a gap with not enough food or money and reliant on charities to help. If you need help, call 211.
Be kind and calm. As a voice of reason, you can spread facts and solid information. Helping others feel less anxious may help calm you, too.
Routines have changed, and there may be new and different challenges in front of us. We may be working differently than we have before. Even though we need to practice physical isolation, it doesn't preclude us from working together. Anxiety might be part of the overall equation right now, but there are tools you can use to help you overcome it. If your anxiety feels overwhelming and worsens over time, consider talking to your doctor or seeking therapy.
~Here's to Your Healthy Pursuits!
Copyright 2020, WellnessPursuits.com